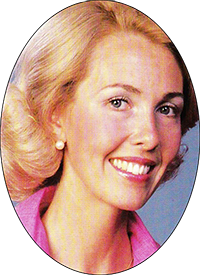 SUMMER is the pastel woman and the woman who wears soft neutrals especially well.  You should think blue, rose and soft.  Even though you may be a Summer who favors her bright colors, you are still looking for softness rather than sharp contrast.  You don't want to look sharp around the edges.  Your colors can be muted or clear, but most Summers favor muted colors.  Muted simply means grayed-down a bit.  Even your coloring is blended – hair, skin, eyes – like a watercolor rather than a modern abstract.  If you are a very fair blonde, soften your darkest colors with a lighter color by your face.  If you are a dark brunette Summer, you may be especially good in the vivid colors of the palette and you may find the palest pastels are best mixed with brighter colors.  You are the woman who just missed being a Winter.   All Summers should avoid black, pure white, yellow-beige, gold, orange, yellow-greens and all yellow undertones.  If you buy a yellow garment, match your swatch carefully.  Light lemon, not gold and not too bright.
USE YOUR COLOR SWATCHES AS A GUIDE.  SEE IF THE SWATCH BLENDS WITH THE GARMENT.
COLORS
White – soft white (not ivory)
Beige – rose-beige, rose-bone
Brown – cocoa (mixed with sugar), rose-brown
Gray – blue-grays from light to charcoal
Black-  no black
Navy – grayed, muted navy
Blue – powder, sky, medium blue, periwinkle blue, cadet blue (grayed-blue), denim
Turquoise – pastel aqua (avoid too bright or too yellow)
Green – pastel to deep blue green
Orange – no orange or peach
Pink – pastel pinks (blue undertone), rose pinks medium to deep, mauve
Red – watermelon, blue reds, raspberry, (no orange-red)
Burgundy – wine, muted burgundy, maroon, cordovan
Purple – lavender, orchid, mauve, soft fuchsia, muted plum, nothing too, bright
Gold – no yellow gold (rarely, you might find rose-gold)
Silver – soft silver
Jewelry – Silver, Rose-Gold (your iPhone)
NEUTRALS
Soft White, blue-grays, grayed navy, rose-beige, bone or brown
NEUTRALS form the foundation of your wardrobe because they go with everything.  Choose your most flattering Neutral or Basic Colors for your coat, suit, jacket and basic dress – the clothes worn closest to your face.  Any of your NEUTRALS may be used for skirts, pants, shoes and bags.
BASICS
Cadet Blue, Denim Blue, Blue-Red, Raspberry, Watermelon, Wine, Burgundy, and Deep Blue-Green
BASIC COLORS are versatile and go with many others and can sometimes be used in place of a NEUTRAL.