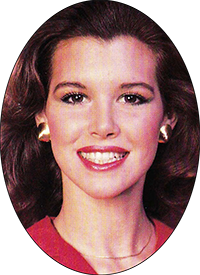 You AUTUMNS have the easiest shopping because you can wear both muted and clear colors, and your colors are readily available. Your colors have yellow-undertones.  When you shop, think warm, rich, deep, blended.  Most of your colors can go up or down a shade from your swatches, except for Deep Periwinkle Blue.  Stick to your swatch and don't go too light.  Teal and Turquoise are both strong and muted, not light or clear.
The very fair Autumn may be overwhelmed by the strength  of the brightest colors, such as orange, chartreuse, bright yellow-green and turquoise. She is best in the soft or mute colors, the Neutrals, peach, periwinkle and jade.  By contrast a dark brown-eyed or darker skinned Autumn may look a little drab in some of the lighter, muted earth colors of her palette.  She needs to wear her bright colors lowest to her face, saving the muted ones for skirts, pants and shoes, or to mix in prints.  She needs makeup to look her best in beige and softer colors.
All Autumns should avoid black, pink, navy, gray, blue-reds and all colors with blue undertones.  Be careful that your peach, periwinkle and lime green are not too pale.
COLORS
White – Oyster, Winter White
Beige – Earth Beiges, Khaki, Camel
Gray – No Gray
Brown – Dark Brown, Most Browns and Tans, Coffee, Bonze, Mahogany
Black – No Black
Navy – No Navy
Blue – Deep Periwinkle, Teal Blue
Turquoise – Deep turquoise (yellow undertone)
Green – Earth Greens: Olive, Moss, Jade, Forest, Grayed Greens.  Lime,
Chartreuse, Yellow-Greens Light to Dark Orange – All Oranges, Deep Peach, Salmon, Rust, Terra Cotta
Pink – No Pink
Red-Bittersweet, Brick, Dark Tomato Red, Orange-Red
Burgundy – Browned Burgundy
Yellow – Yellow-Gold, Golden Yellow
Purple – No Purple
Gold – All Golds
Silver – No Silver
Jewelry – Gold, Copper, Brass, Wood, Pearls, stones from your color palette
NEUTRALS
Oyster White, Beige, Khaki, Camel, Dark Brown, Gold, Bronze, Olive
NEUTRALS form the foundation of your wardrobe because they go with everything.  Choose your most flattering Neutral or Basic colors for your coat, suit, jacket and basic dress – the clothes worn closest to your face.  Any of your NEUTRALS may be used for skirts, pants, shoes and bags.
BASICS
Forest Green, Moss Green, Orange-Red, Bittersweet and Dark Tomato Red, Rust
BASIC COLORS are versatile and go with many others and can sometimes be used in place of a NEUTRAL.